Colorado River Willow Furniture
a brand name of garden treasure furniture by FancyWillow.com
FOR MORE INFO & MONEY SAVING COUPON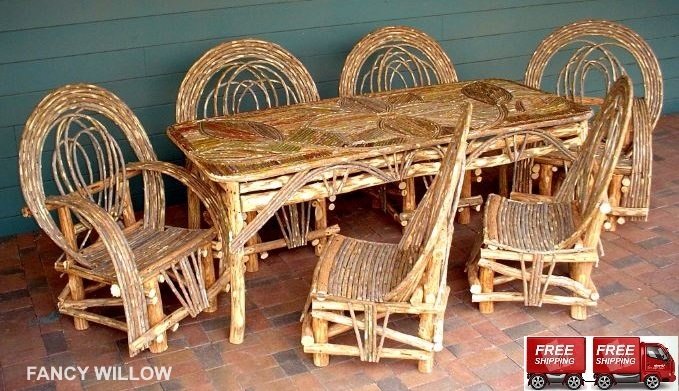 Colorado River Willow Furniture
Willow patio furniture, also known as bentwood or twig furniture has been made for centuries and possibly dates back to Ancient China. Wicker furniture also has a long history that spans nearly 5,000 years. The word wicker is of Scandinavian descent and originates from the word wika which means "to bend" and vikker which implies willow wood furniture.
FancyWillow.com offers the finest selection of beautifully handcrafted garden furniture. We are located along the Lower Colorado River valley and we practice selective harvesting of wild growing willow trees.
We have created many of our own outdoor furniture designs and produce naturally hearty and aesthetically pleasing pool furniture. Such as willow: chairs, rockers, tables, loveseats, chaise lounges, umbrellas, consoles, children furniture and toys, doors, fences, ramadas, pavilions and display furniture.
Our sturdy and rugged handmade cabin furniture, adds a great casual appeal to any rustic decor within your veranda, porch, deck, patio, swimming pool, garden, great room, clubhouse, cabana, cabin, cottage, lodge, lake, beach, resort or western living.
Our brand of Colorado River Willow Furniture is available for your casual living lifestyle. We welcome custom furniture and wholesale furniture orders.
We would love to talk to you about any special projects or designs you may have in mind - we make almost any willow western furniture product.
For your beach furniture: Like us on Facebook.
Have a question about ordering or anything?
Please call 928-503-1110.
Thank you.
11777 South Fortuna Road
Yuma Arizona 85367
928-503-1110
Website designed by eAZTEC.com
Copyright. FancyWillow.com All Rights Reserved.